2019 TTIA & TTNO Congress
Evolving with Therapeutic Touch
The Future Consciousness of Healing Worldwide
Save these DATE: October 18th - 20th, 2019
Three Exciting Speakers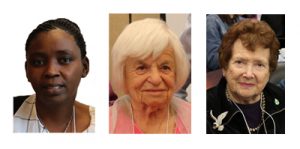 Peninah Abatoni, Rwanda           Dolores Krieger, USA               Crystal Hawk, Canada
Mark your calendar to join TTIA and TTNO in Toronto at Kingbridge Centre
Kingbridge Centre website https://www.kingbridgecentre.com/
Check out the TTIA Website http://therapeutictouch.org/2019-congress/
There are some interesting tours available. Read about them here.
View the Delta Airlines offer here
Conference Purpose

To promote personal growth and development of Therapeutic Touch® practice as a commitment to global healing.
Conference Goals
To support the evolution of a global community of compassionate practitioners, researchers and educators to promote the Future Consciousness of healing worldwide.
To provide examples of how the practice-based Theory of Healing has evolved in various parts of the world.
To share self-reflective practices in the actualization of our roles as Therapeutic Touch practitioners
Download all the Documents You Need
Download the registration form here.  NOTE: If paying in Canadian funds you must register through the TTNO Office.
Download a congress brochure here.
Download conference poster here. Then send it to all your TT friends!
Want to be a vendor? Download the application form here.
Want to be a sponsor? Download the application form here.
Documents for Presenters
Want to be a presenter at the congress? Download the application here.
Note: Deadline for Submissions: Breakout and Poster Presentations: April 15, 2019
All presenters must fill in a conflict of interest form. Download it here.
Download all deadlines for presenters here.
Some Views of the Kingbridge Conference Centre
Contact information and location:
Check out the conference centre website here www.kingbridgecentre.com
Address for the centre is:
Kingbridge Conference Centre & Institute
12750 Jane Street, King City, (Toronto),
Ontario Canada L7B 1A3Phone: 905.833.3086
20 minutes from the airport - 40 minutes from downtown Toronto
Save the date, and plan to attend this weekend event!