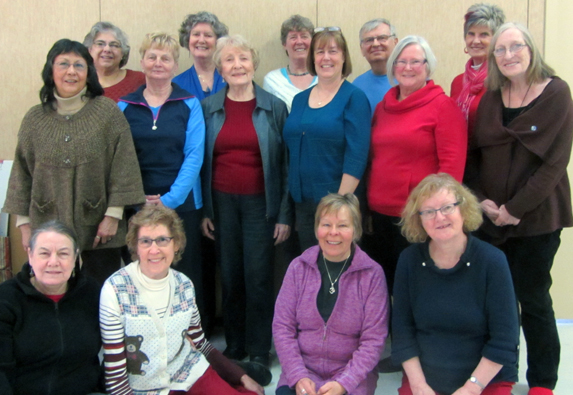 The Whitby Therapeutic Therapeutic Touch Practice Group is a very active group! They have been involved since the Whitby Health Fair's inception 8 years ago. On Saturday February 28, 2015 they offered Therapeutic Touch® from 10:00 am to 2:00pm. They had a poster board and distributed the TTNO brochures and business cards for their Therapeutic Touch clinic at St. Mark's United Church. Most people were keenly interested to hear more about Therapeutic Touch and about the clinic. Nine practitioners offered Therapeutic Touch sessions to the public in the peaceful sanctuary.
This year they saw a greater number of men agreeing to receive Therapeutic Touch than in previous years. Some feedback from the people who received a Therapeutic Touch treatment was that their physical discomforts abated, they relished the feeling of peace and tranquility and ease that the treatment gave them, and that they were very happy that there were holistic and non-intrusive methods available to give them this respite from the conditions they were having to endure.
One practitioner noted, "Every one of my 'clients' gave me a hug and left with a big smile and an air of contentment, which made me feel so good!"
Many of those people exposed to Therapeutic Touch for the first time at the health fair attended our March clinic to receive another session.
The Whitby Practice Group was also on hand Tuesday March 24, 10:00 am to 3:00 pm for the Active Living Fair...Living Well, Staying Strong at the Whitby Seniors Activity Centre, 801 Brock Street South, Whitby. Admission was free. They offered Therapeutic Touch sessions throughout the day. This event was sponsored jointly by the Older Adult Centres Association of Ontario and the Ontario Seniors Secretariat. AND they'll be giving a Therapeutic Touch presentation at the Whitby Seniors Centre in April.