Testimonials
We encourage both those receiving Therapeutic Touch and those providing the Therapeutic Touch to send testimonials to the webmaster to be included on this page. [email protected]
As an individual with Parkinson's Disease, I am constantly looking for strategies to combat and/or delay the disease.  One of the most successful strategies to date, along with medication and rigorous exercise, has been Therapeutic Touch.
    I was offered this service through my local hospice and it has become an essential part of my wellness regimen.  My practitioner, Nancy Hall is compassionate, sensitive and intuitive.  On our first meeting we established a comfortable and friendly rapport which has evolved into a warm friendship. We have continued weekly sessions for about 18 months. During the procedure a deep sense of calm, relaxation and peace comes over me and following the session I feel cleansed, refreshed and peaceful in both body and mind. I truly feel that Therapeutic Touch has contributed significantly to my ability to live well with this disease and I am extremely grateful to Nancy for all that she does for me. 
M. Di Giovanni, New Tecumseth ON
I was introduced to Therapeutic Touch when my husband was in the Dorothy Ley Hospice. He was offered a TT session. When it was given, I remained in the room with him in case it upset him. I watched the practitioner carefully when she moved her hands over my husband as if she was actually feeling things in the air around him. I was pretty skeptical that this could be a real therapy. However, Peter fell into a peaceful sleep and I experienced a sense of profound peace, relaxation and a feeling that somehow I had been nourished.
About a year later I took the training to become a hospice volunteer. Again, I heard about TT. We were all given a session and again I experienced peace and relaxation. Out of curiosity I signed up for Level 1 of TT training, never thinking for a moment that I would eventually be practising it. I went on to complete Levels 2 and 3 of the training. Since 2018 I have been offering TT to hospice clients in the community and residents in the hospice. Because of COVID I am offering distant healing through TT to clients in the community and have found that distance does not reduce the effectiveness of the treatment.
From being a skeptic about even becoming involved in Therapeutic Touch, I have become a strong advocate. I am awed constantly by the benefits to clients from this therapy. It should be noted that not all of the benefits go to my clients. Through TT I have learned to trust my intuitions more. I feel I have become much more open and compassionate in my relationships with others.
A.S. Toronto
With COVID bringing so many restrictions to our way of life, it is good to know that Therapeutic Touch can be given at a distance. Here is a testimonial describing how Distant TT has made a difference in the life of a young gentleman who is autistic.
As we attempt to deal with life and COVID, having a son with autism has a set of new challenges. Matthew benefits from Therapeutic Touch at a distance. We are truly blessed knowing Susan. Her approach and energy and treatment has impacted Matthew in a good way. In most cases, a short time after treatment, he is calmer, quieter and then has the best night's sleep. A much better option than using medication. It brings a sense of peace to him and makes his daily life happier. I, myself, have also benefitted from treatment. When stress from daily issues kicks in, treatments have brought a calm, grounding energy back to my soul. Thank you Susan for showing sharing your special gift and healing
Sonia Tuck, Cambridge ON
September 2020
Our clients benefit so much from Therapeutic Touch. We get such good feedback and our trained providers are amazing people. What a wonderful circle of care!
MARK GODIN MA, MDiv – Director, Strategy and Client Services - www.hospicewaterloo.ca
I have been receiving Therapeutic Touch treatments for the past several months after I was diagnosed with lung cancer and after chemo treatments.  I find these treatments very beneficial, relaxing and quite helpful for the pins and needles in my feet due to nerve damage caused by the chemo.  I feel very supported by the in person treatments and also the distance treatments.  What a great, positive and uplifting service this is!  Thank you.
Elinor, Belleville, Ontario
February, 2019
My friend and the beloved partner of my Dad, was diagnosed a year ago with lung cancer, idiopathic pulmonary fibrosis and COPD. The future didn't look good or long. Surprisingly, it has been much better than feared. The chemo was dreadful; the radiation less so. I am an RN and I've got to say, I believe the TT treatments have been playing a part in maintaining the quality of life. What a great gift.  
Valerie, Belleville Ontario
Fall, 2018
Relaxing! Calming! Thanks so very much. I received Therapeutic Touch following hip replacement surgery. The first couple of sessions helped reduce both swelling and muscle tension. The next couple of sessions relaxed me into a deep and needed sleep! The final session was lovely and calming. Therapeutic Touch serves a very special place in the healing process for sure.
Sandra Valks, Belleville, Ontario
November, 2016
Casey House, Toronto: "We believe that complementary therapies are fundamental to supporting the health and well-being of the people we care for at Casey House. We employ complementary therapies as an adjunct to medication regimes that help clients deal with pain, symptom management and depression. These therapies speak to our holistic approach of addressing the needs of the body, mind and spirit. Most importantly they allow comfort to clients in all phases of their care and contribute to enhancing their quality of life."
                              Casey House offers several complementary therapies, one of which is Therapeutic Touch.
After breaking my ankle on April 15th 2015, I was in pain and worried about potential surgery. I contacted Shirley Boon, a Recognized Practitioner in our area. She gave me Therapeutic Touch and I immediately felt much better and less worried.
Over the next few weeks I received Therapeutic Touch regularly, either one on one or as distant Therapeutic Touch . When I went back to the surgeon on April 30th to have an x-ray to see how the ankle was doing, he was visibly pleased and said to 'Keep doing whatever you are doing!' The break was in place and healing! Needless to say, I was very relieved and feeling the Therapeutic Touch had a lot to do with it.
Therapeutic Touch also helped to relieve the pain in my hands, arms, and shoulders from using the crutches. Thank you Shirley and thank you Therapeutic Touch!                                 
L. Arnold, Huntsville, April/May 2015
Healing Energy: Therapeutic Touch recently contributed the much needed rest and respite from the rigors of my experiences with chemotherapy, and very shortly thereafter, Therapeutic Touch established peace and well-being to ease the sadness of the passing  of my beloved mother.

Shaaron Lewis, Toronto
I was co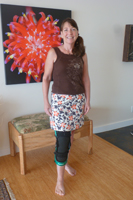 mpletely unfamiliar with Therapeutic Touch® until Jeanie Dunnett, RT approached me offering to treat my knee both before and after the stem cell procedure. During my pre-op treatment I became very relaxed with a generalized feeling of peace. Jeannie sent distant sessions after the procedure.
Further hands on post-op sessions left me with the same feelings of wellbeing.  Those nights I was pain free and slept well.  I awoke each morning after, feeling refreshed and restored.  My experience demonstrated that Therapeutic Touch played a beneficial role in my recovery.  Note: Since then, Jean has gone on to learn Therapeutic Touch and is now helping others to heal!
Jean Pammer, RN.   Hilo, Hawaii  April 2014
During time at Guelph Hospice, Therapeutic Touch was offered to my husband, who appeared much more calm afterwards. I really felt it eased his passing. Several close family members also accepted the offer of TT, and all said it helped them cope with a very sad time in their lives.
L.T., Rockwood, ON
My Therapeutic Touch treatments helped my chemotherapy and radiation sessions go easier. The physiotherapist and surgeon were amazed at my range of motion the morning after my surgery, and at how quickly the incision healed.
Sharon Dixon, Belleville, ON
My life is more peaceful and stress-free since learning Therapeutic Touch. Upsets no longer have a hold over me.
Paula Neilson, Toronto, ON
As a pediatric nurse, I have had the opportunity to offer Therapeutic Touch to many children and teens. While responses are individual, for the most part they describe it as relaxing and comforting and often ask for more sessions.  The parents of the children also find it calming when they watch their children receive Therapeutic Touch. Therapeutic Touch has enhanced my holistic nursing practice.                       
Darka Neill RN, BScN, RT