On April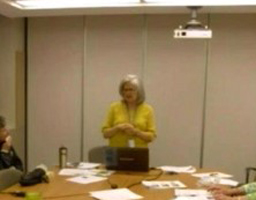 22 Arlene Cugelman presented to the palliative care rounds held monthly at Orillia Soldiers Memorial Hospital in which she participated with several other hospitals and LTC's connecting via Ontario Tele-health Network. In this excellent presentation Arlene introduces Therapeutic Touch and expands on its use in palliative care. To view the telecast click on this link http://mediasite.otn.ca/Mediasite/Play/f1d32b8f5a5c40b59c990d83bae134301d?catalog=fd668812-d87c-47f9-b1ba-6d979fed9af4
"Working in Hospice has been a heartfelt experience providing many opportunities to utilize this gentle, healing technique and relay these experiences of clients and especially family members as part of the presentation."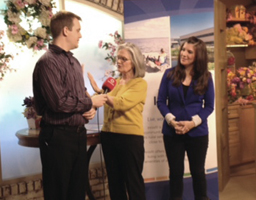 Arlene Cugelman made her Rogers debut on live television April 24th! Her presentation was part of the local Rogers channel's Daytime 11-12 show with co-hosts Alex Brown and Melanie Case.
The Hospice Simcoe Community Outreach was taking part in the promotion of The Innisfil Wellness Day event being held May3rd. There was an opportunity to briefly introduce Therapeutic Touch as a valuable aid to those at Hospice Residence in Barrie and especially its benefit for those who accompany them. Arlene is seen here demonstrating the technique on the host - Alex Browns' shoulder injury.