Evelyn MacKay
Therapeutic Touch Network Ontario
>
TTNO Members
>
Branch Contacts
,
Practitioners
>
Evelyn MacKay
<!–– Bio and Photo ––>
<!–– Start Container Row ––>
<!–– Start Container Col 8 ––>
In 1982, no longer in active nursing but with a strong interest in health issues, Evelyn took a college course in Hospice Care and became very involved in the Hospice movement in Guelph. An introduction to Therapeutic Touch through Dr. Dolores Krieger, PhD, RN, convinced Evelyn of its efficacy and with further study with Cathy Fanslow, RN, MSc, who teaches the application of TT in Hospice Care, Evelyn added TT to her work with hospice clients. Since qualifying as a Recognized Teacher (RT), Evelyn has taught this method to some 4000 people in Ontario and Eastern Canada. Evelyn has served on the TTNO Board of Directors as Practitioner Liaison, Teacher Liaison and then Chair. She is the past editor of the inTouch newsletter and considers the encouragement of new Therapeutic Touch teachers as her most important contribution to her community. Evelyn has a private practice in TT, continuing as a volunteer with Hospice Wellington.
<!–– End Container Col 8 ––>
<!–– Start Container Col 4 ––>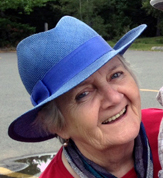 <!–– End Container Col 4 ––>
<!–– End Container Row ––> <!–– End Bio and Photo ––> <!–– Start Container Row Rest ––>
<!–– Start Container Row ––>
<!–– Start Container Col 6 Left ––>
Designation:

Branch Contacts

Practitioners
<!–– End Container Col 6 ––>
<!–– End Container Col 6 ––>
<!–– End Container Row ––>
<!–– End Container Row Rest ––>