Craig Niziolek
Therapeutic Touch Network Ontario
>
TTNO Members
>
Branch Contacts
,
Practitioners
,
Teachers
>
Craig Niziolek
<!–– Bio and Photo ––>
<!–– Start Container Row ––>
<!–– Start Container Col 8 ––>
Craig Niziolek was first introduced to energy healing in 1998 and started learning and practicing Therapeutic Touch with Mary Simpson in 2003. He then continued learning with Crystal Hawk and Linda Nelson. Craig became a Recognized Practitioner in 2011 and a Recognized Teacher in 2013. He now runs the TTNO Peterborough Branch, practices out of his Lakefield homeand at the Peterborough Spiritualist Centre Craig also does hospital and home visits. Craig sits of the TTNO Board of Directors as the Chair of the Teachers Liaison Committee. Craig is also a Certified Lifestyle Consultant with Swiss Bionic Solutions using PEMF, Pulsed Electro Magnetic Field Therapy which has been regulated as a Medical Device in Canada to increase circulation and to relieve pain. Also known as Magnetic Resonance Stimulation, MRS re-energizes the cells to optimize cellular metabolism. Craig uses MRS as an antidote to Electro Hyper Sensitivity and Practices Safe Tech to reduce exposure to the "wireless" radiation that blankets our environment today.
<!–– End Container Col 8 ––>
<!–– Start Container Col 4 ––>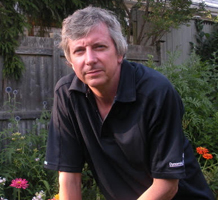 <!–– End Container Col 4 ––>
<!–– End Container Row ––> <!–– End Bio and Photo ––> <!–– Start Container Row Rest ––>
<!–– Start Container Row ––>
<!–– Start Container Col 6 Left ––>
Designation:

Branch Contacts

Practitioners

Teachers
Teaching Regions:

Practice Regions:

<!–– End Container Col 6 ––>
<!–– Start Container Col 6 Right––>
Contact Info:

Phone: 705-651-1010
Email: [email protected]
Qualified to Teach:

Foundations of Therapeutic Touch®
Teaching Cities:

Eastern/Central Ontario

Lakefield

Peterborough
Practice Cities:

Eastern/Central Ontario

Lakefield

Peterborough
<!–– End Container Col 6 ––>
<!–– End Container Row ––>
<!–– End Container Row Rest ––>