Penny Craig
Therapeutic Touch Network Ontario
>
TTNO Members
>
Branch Contacts
,
Practitioners
,
Teachers
>
Penny Craig
<!–– Bio and Photo ––>
<!–– Start Container Row ––>
<!–– Start Container Col 8 ––>
Penny Craig, BScN, MA, was first introduced to Therapeutic Touch in 2004 through the Hospice of Windsor and Essex County Inc. She became a Recognized Practitioner in 2007, and a Recognized Teacher in 2015. Penny works with clients in the campuses of Windsor and Leamington Hospice residences, in hospitals and clients in the community. Penny is a member of the Windsor Branch and a facilitator of the Leamington/Essex County Branch. Penny resides in Belle River in Essex County.
<!–– End Container Col 8 ––>
<!–– Start Container Col 4 ––>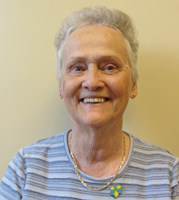 <!–– End Container Col 4 ––>
<!–– End Container Row ––> <!–– End Bio and Photo ––> <!–– Start Container Row Rest ––>
<!–– Start Container Row ––>
<!–– Start Container Col 6 Left ––>
Designation:

Branch Contacts

Practitioners

Teachers
Teaching Regions:

Practice Regions:

<!–– End Container Col 6 ––>
<!–– Start Container Col 6 Right––>
Contact Info:

Phone: 519-727-4784
Email: [email protected]
Qualified to Teach:

Level 1, Level 2
Teaching Cities:

Practice Cities:

<!–– End Container Col 6 ––>
<!–– End Container Row ––>
<!–– End Container Row Rest ––>