Shirley Boon
Therapeutic Touch Network Ontario
>
TTNO Members
>
Practitioners
,
Teachers
>
Shirley Boon
<!–– Bio and Photo ––>
<!–– Start Container Row ––>
<!–– Start Container Col 8 ––>
Shirley Boon RN (Retired) took her first Therapeutic Touch class in 1996, became a Recognized Practitioner in 1998 and a Recognized Teacher in 2000. She teaches classes in all three basic levels in Huntsville and will travel to other locations on request. Shirley has recently served on the TTNO Board as Past Chair. Shirley attends the TTNO Huntsville branch and is very grateful that other TTNO members have stepped up to facilitate the group meetings. She provides Therapeutic Touch sessions in her home or in the client's home. She also provides distant Therapeutic Touch. Shirley facilitates a TTNO-sponsored Professional Development Day every year in Huntsville and will travel to facilitate in other areas. For continuing education, Shirley attends Therapeutic Touch Teachers Days, the TTNO Annual Event and advanced workshops or retreats. Shirley teaches in Huntsville and the area including Gravenhurst, Parry Sound and North Bay.
<!–– End Container Col 8 ––>
<!–– Start Container Col 4 ––>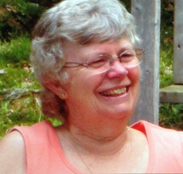 <!–– End Container Col 4 ––>
<!–– End Container Row ––> <!–– End Bio and Photo ––> <!–– Start Container Row Rest ––>
<!–– Start Container Row ––>
<!–– Start Container Col 6 Left ––>
Designation:

Teaching Regions:

Eastern/Central Ontario

Northern Ontario

Southern/Western Ontario

Toronto GTA
Practice Regions:

<!–– End Container Col 6 ––>
<!–– Start Container Col 6 Right––>
Contact Info:

Phone: 705-784-0969
Email: [email protected]
Qualified to Teach:

Foundations of Therapeutic Touch®
Teaching Cities:

Gravenhurst

Huntsville

Parry Sound

North Bay
Practice Cities:

<!–– End Container Col 6 ––>
<!–– End Container Row ––>
<!–– End Container Row Rest ––>