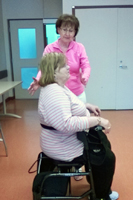 On March 25, 2015 a small group from the Whitby Therapeutic Touch Practice Group attended the Huntington Society of Canada Support Group in Whitby. Huntington Disease (HD) is an inherited, progressive brain disorder that affects physical, cognitive, and emotional functions. Support is offered to "individuals with Huntington Disease, persons at-risk, persons who are gene-positive, caregivers and family members". The KoKreative Therapeutic Touch DVD was shown followed by a demonstration of a Therapeutic Touch session. Afterwards all participants received Therapeutic Touch.

Subsequently we were invited to participate in the 2nd Annual Durham Region Walk to Cure Huntington Disease on Sunday May 24, 2015 in Bowmanville. We offered free Therapeutic Touch sessions to interested individuals after participants finished the walk. There was food, music, a silent auction, 50-50 draw, face painting, police dept. antique cruiser and fire truck. A substantial amount was raised to help fund research into a cure for HD.
Members of the Whitby Therapeutic Touch Practice Group also volunteered for the Our Wellness Program for Women at the Oshawa Community Health Centre on Thursday June 11, 2015. [See photo to left.] This is a free drop-in program for women to learn self-care and to enhance their sense of well-being. Therapeutic Touch has been a invited to participate in this program for many years and currently we attend 3 times annually. The group responds enthusiastically to our visits and we see many repeat registrants. A brief overview of Therapeutic Touch and how it relates to well-being and stress was followed by a demonstration of a TT session. The group was led through a guided meditation and all participants received Therapeutic Touch. One lady stated she noticed an increased feeling of inner strength after the group was guided in centering.