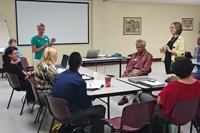 On June 25, Tracey Adams-Thibodeau, Activations director for Fieldstone Commons long term care facility, Crystal Hawk, Alison Cooke, Joseph Mcaleer, and Paula Neilson introduced Therapeutic Touch to the executive directors of the central region Sienna Living Long Term Care facilities. Tracey began by sharing how Fieldstone Commons came to the decision to include Therapeutic Touch in their nursing and activations programs. Crystal followed, giving the history of Therapeutic Touch and the TTNO. Alison then described how the changes noted in residents receiving Therapeutic Touch at the Stirling Manor Nursing Home led to their hiring her, twelve years ago, to provide Therapeutic Touch to the residents there. She highlighted the main changes as being a reduction in psychosomatic illness, better pain management, improved sleep patterns, and a smoother adaptation to the new environment. She then went on to define Therapeutic Touch.
Joseph and Paula outlined the referral process and documentation that has been worked out at Fieldstone Commons where they have been employed for almost a year, providing Therapeutic Touch to the residents there. They both shared stories of the effects of Therapeutic Touch on restlessness, phantom limb pain, pain management, and the sense of well-being Therapeutic Touch provides.
Paula gave a demonstration of the Therapeutic Touch session with Alison providing commentary. Crystal added that all TTNO Recognized Teachers and Practitioners follow the same curriculum and CARE protocol for teaching and providing Therapeutic Touch. The presentation ended with a question and answer period.
The directors were very interested in pursuing the addition of Therapeutic Touch to their Life Enrichment and Nursing programs.