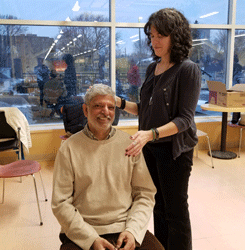 Therapeutic Touch, come rain or shine or freezing rain!!!
Loblaw's dietician put on a health and wellness afternoon on February 23rd, 2018. Since we rent space at Loblaw's for our TTNO Ottawa Branch meetings we were invited to participate in this event.
On my way to this event I was feeling under the weather literally, it was freezing rain and I passed five car accidents and wondered what in the world am I doing here….
A core group of 5 TT practitioners participated and offered mini TT sessions. A big thank you to Gabrielle, Mariette, Suzanne and Mariann who came despite the freezing rain.
Our table and display was set up beside the entrance to Goodlife Fitness, so that created some buzz and curiosity. Two of the recipients had already taken levels of Therapeutic Touch, one gentleman from Belleville, who, used to go to Donna Logan van Vliet's practice group. It's a small world and a lady from out West who happens to be David Maginley's  stepsister….IMAGINE!
Over a three hour period we gave 15 mini sessions, of which 4 clients  were interested in taking a workshop,  4 possibilities of speaking engagements and one client who will call me for her husband who has MS.
I received a wonderful session myself and felt much better.
Not bad for Freezing rain!
Gail Lafortune RPT