24th Annual Fall Conference 2014
The Journey Through Loss…Universally shared, Uniquely experienced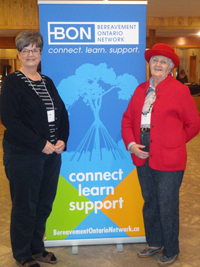 In October of 2014, Mimi Craig RT, a very active member of both the Therapeutic Touch Network of Ontario and Hospice Wellington, was invited to present a workshop at the 24th annual Bereavement Ontario Network conference. This was held at Geneva Park which is set in the beautiful surroundings of Lake Couchiching, near Orillia.
Mimi's session addressed the complementary modalities that are available at Hospice Wellington. Attendees were astonished at the number of modalities available: Therapeutic Touch®, yoga, Reiki, meditation and massage therapy. It was an exciting morning for participants, who learned to feel their own energy field and to discover they could have a sense of something they had never before realized or felt! They watched intently as Mimi gave a Therapeutic Touch session to a volunteer; the participants then asked lots of questions. Lastly, they learned how they could communicate with a dying or bereaved person, without words, by using the Hand-Heart connection.
Evelyn MacKay RT also participated in the BON conference. The focus of her plenary session, which opened the conference, was entitled "Unusual Events as a Pathway to Peaceful Transition". Her focus was on the grief and sense of bereavement felt by the dying client. While family members deal with the loss of a father, mother, sibling, or close relative, or friend, the dying person is losing everyone and moving into the unknown. Evelyn's presentation addressed client concerns and how the use of Therapeutic Touch can help the dying person face their uncertain future with a greater sense of peace and calm. Attendees were very interested in the various applications of Therapeutic Touch and how it can be used to address grief and bereavement of their clients.