Clinical Practice and Education Department Skills Days November 27 & 28 and December 1,2, and 3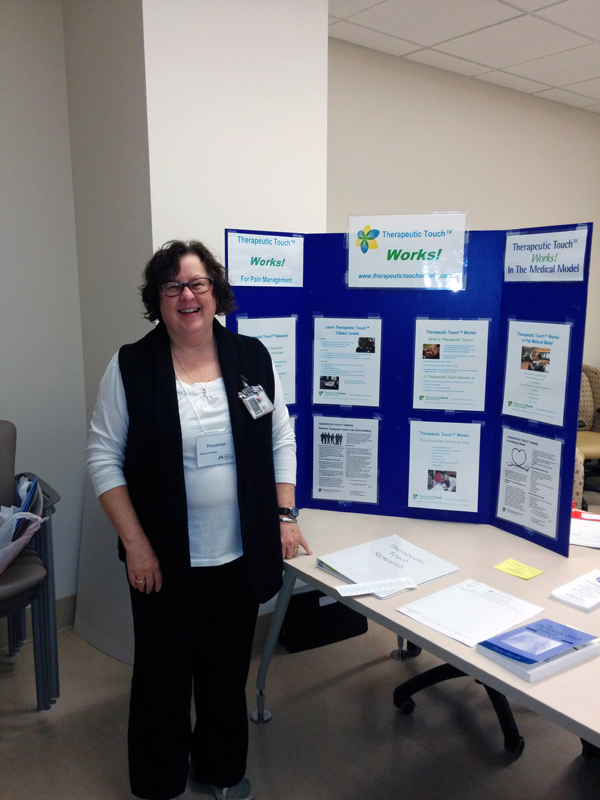 Laura Pokoradi, RN, RPT, QTTT, reports that there was a great reception for the Therapeutic Touch display!
The Annual skills Review Day is held for the staff to review skills and keep up to date on current developments in health care service and products. We ran a Therapeutic Touch display and it was a success. Approximately 100 people stopped by our display and many of those received a demonstration session.
"I enjoyed it! Interesting and feels better!" and "It was very interesting and unique" were among the comments.
Many thanks to Rose Philip, Lynne Calnek, Livia Kaszuba, Deb Carrick, Diane Sheppard and Gail DeVeau. Without these people this Therapeutic Touch event would not have happened.
This was so successful that we have been invited to the next Skills Day at the General site and one week later, received an invitation to the McMaster Children's Hospital Skills Day. The educator said: "It is such a hit with the staff and I hope its good exposure for you and your practice."
Exposure and understanding is what it's all about. Someone asked me how many people came to my classes as a result of doing these displays. Well, a few did from the one in 2013, and time will tell for this one. The greater value I believe is in the exposure and understanding. We have the chance to answer questions about what Therapeutic Touch is and is not, offer information, research and a demonstration. So next time a patient asks about Therapeutic Touch, or a practitioner goes to the hospital to give a session, the nurse or other staff knows what it is. They may even recommend it or tell them how to contact someone to get a session.
If you are interested in helping to promote Therapeutic Touch in the hospital setting, or specifically for children, please contact Laura Pokoradi, 905-385-9217 or [email protected]
General hospital date: March 5, 6, 9, 10 and 11
McMaster Children's hospital dates: Feb19, 20, 23, 24 and 25